Testimonials
María Phantom
Maria Claudia P.
Rocio Niño
Idalies Vanegas
Diana Marcela
Yubeli Leal
Katherine Molano
Maritza Botero
Olga López
Aura Julieta Camelo
Edwin Maldonado
Kind Regards! My experience with Dr. Juris was amazing, I underwent liposuction and I lost three sizes, now I am happy. Everything in his office is very professional and clinical staff is very attentive and helpful. From the moment I arrived at the clinic until the postoperative period everything went in an atmosphere of great reliability and kindness. To all who are undecided I recommend to be courageous, you will observe positive changes in your aesthetic lives and health.
Diana Rueda
Though my decision to undergo a surgery rose months ago abroad, where I am a resident, I am convinced that my patience and extensive search for information about surgeons was rewarded and fulfilled my expectations when choosing Dr. Juris.
The investment of time was definitely worthwhile, making the decision, a journey of 14 hours, the courage to undergo this type of intervention.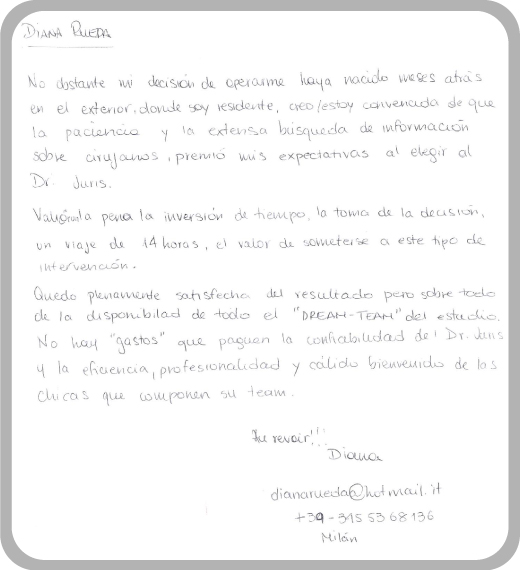 Adriana Quintero
My experience with Dr. Juris was excellent, from his friendliness to the trust and confidence that he gave me.
I went for a lipectomy and liposuction after a twin pregnancy. I'm happy with my result.
Today only I have to say "thank you !!!!!"
Adriana Quintero.
Iveete Martinez
I am very grateful to God for the opportunity he has given me to make my dreams come true this year.
After delivering my three beautiful children what I wanted the most was to undergo aesthetic surgery but it was not possible because of the cost. I heard several years ago about Dr. Juris. I looked for information on his website and I could see that it is one of the best cosmetic surgeons worldwide. It was then that I decided to travel to Bogota, Colombia, to make this change in my life.
Once I arrived in Colombia I felt like home, that is, they made me feel home. In the stay I was welcomed with open arms and the service they gave me was very good quality, from the day and night care to meals (delicious). The entire hospital staff was spectacular. An atmosphere of love and kindness. It's been three months since my surgery and I feel the most beautiful and the happiest woman in the world. Before the surgery, my dress size was 14 to 16 and weighed 170 pounds, now my size of 6 to 8 and I weigh 135 pounds. Thank God and Dr. Dario Juris for making my dreams come true.
Elsie Rodrigues
My name is Elsie Rodrigues; 46 years old.
My experience in Bogotá Colombia was amazing I came to Colombia not knowing what to expect, I wanted to feel sexier and feel good about me again… Once I arrive and meet Dr. Darío Juris López I knew from my first consultation with him that I would trust him with all of me, he made me feel amazing about the way I was going to look and I trusted him right from the start. he has a way about him that shows he loves what he does, I can tell right away he was very comfortable in his work and also made me feel comfortable about the work I wanted done, the day of the surgery came and I am in disbelieve how beautiful work he has done I didn't expect it to be the way I look it's more than I expected I'm so glad I had him do my work I couldn't ask for anyone better or anyone that cares as much as dr Juris does, I had the best recovery with everyone involved in his practice, specially Claudia matamoros she made sure I was comfortable with my travels and housing and made sure I was safe traveling alone I couldn't be happier and of course my massage girls Nohorella Campuzano, Yelipza Gomez, Claudia Matamoros, Rochy Solano, Juliana Solano this girl are amazing there massages are the most important part of the recovery they are very professional and I'm grateful to all of them. I just want to say thank you for making me feel as good as i do and making it such an incredible and amazing experience and thank you so much for giving me sexy back Dr. Darío Juris López you are the best.
Much love
Always
Elsie Rodrigues.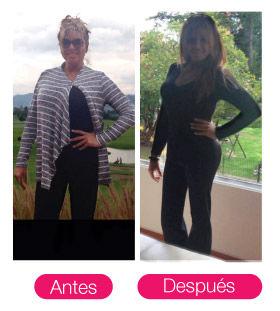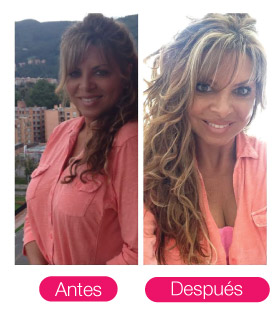 Carmen Edilsa Reyes
Carmen Edilsa Reyes Maurno, hereby, allow myself to thank Dr. Dario Juris and his team, as I just underwent a surgery in which I am very happy and amazed with how good surgeon Dr. Juris is, he is an excellent professional, with human quality. Regarding my recovery I did very well to meet all my expectations. Thanks, Dr. Juris, for changing my life.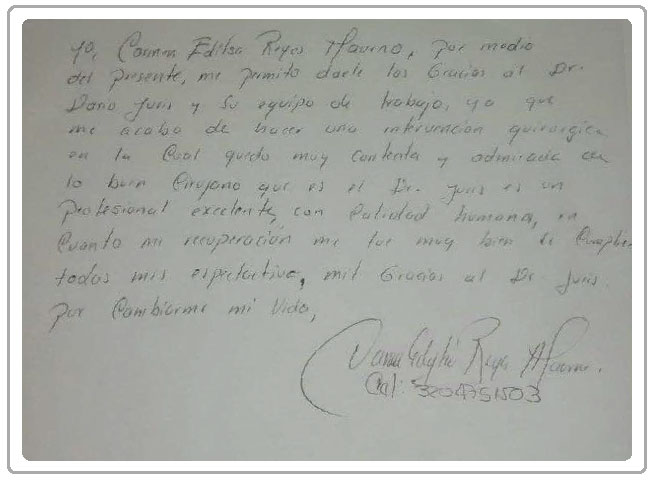 Silvia Saavedra
I got Dr. Dario Juris' office recommended by a friend. From the moment I arrived for assessing the attention has been very good by Dr. and his team. The office is conveniently located. A month ago I underwent a mamopexia and liposuction and have not had any complications. He and his team have been very attentive during my postoperative period. I am very happy with the results.
Silvia Saavedra – [email protected]
Karina Soileau
Today is Friday and I am returning for my country, and I have no words to thank you, my dear Doctor DARIO JURIS, all you did for me, great attention, your concern, human quality and your incomparable professionalism, I'm very grateful and happy with you and your entire professional team, and you, Claudia, thank you so much, I am taking you in my heart, and may God always bless you … see you soon…
Blanca Rivera
After my third pregnancy I always dreamed of being slender and despite diets and visiting the gym I could not get back in shape. I was always thinking about the possibility of undergoing plastic surgery (liposuction and abdominoplasty) but the thousand and one question haunted me in the head, for example when, where and with whom I would undergo the intervention. It is a very difficult decision to make. Over the years and after studying many cases I heard about a good Doctor located in Bogota, Colombia. I met friends who had been in touch with him, we talked and his testimonials convinced me. I contacted Dr. Dario Juris, we exchanged some emails and I found Dr. Juris reliable, but there would be nothing like my own experience. I thank to God very much for putting this angel on my way, very professional and his team is incomparable. From the moment I arrived to Bogotá, Colombia all the best attentions were for me, starting with the driver, office equipment and accommodation. Wow! A spectacular care!!! Everybody was very professional. Regarding my surgery it was better than I thought. Nothing better than opening your eyes and the first time you see is the doctor's, and wondering: How do you feel Blanquita? Do you want to see yourself? This surprised me a lot because usually after surgery nurses attend you, and in my case the first person I saw was my angel, my Dr. Juris. I can say that the fifteen days I was in Colombia I saw him every day, he was always aware of my conditions, physically and emotionally. I recommend Dr. Juris all. Dare to be beautiful, it does not cost anything, simply choosing the best surgeon: Dr. Dario Juris. Best regards.
Blanca L. Rivera.
Email:[email protected]
Araceli Benesario
Procedures: liposculpture, lipectomy, fat transfer in buttocks and chin liposuction.
Weight before surgery: 168 Lbs
Current weight: 129 Lbs
I have achieved my dream to look good and have a slim body. This thanks to God and the excellent surgeon and human being, Dr. Dario Juris. The treatment and the kindness of his staff made me feel that everything would be fine from the moment they picked me up at the airport. The next 16 days after surgery were so pleasant that I felt like home. The attention and care and above all the love they gave me made me feel like a queen. It has been a year from my surgery and I still have such fond memories of my stay and the excellent work that Dr. Juris did in me. I can sum up everything that I do not regret having made the decision to undergo surgery with Dr. Dario Juris as my self-esteem and my whole life have changed. I lost 39 lbs and 7 dress sizes. I'm super happy!!!!!. I enclose a photo of thebefore and after. For more information you can contact me at my email [email protected]
Natalia Melo
Nothing could have been better than finding such a professional surgeon, honest and ethical like Dr. Dario Juris …
For 10 years I struggled to have a proportionate body and a flat abdomen without accumulated fat, I went through many aesthetic treatments, investing money finally lost because nothing worked and only left me unfulfilled promises, deceit and mistreatment in my body.
This year I made the decision to undergo liposuction, something I always saw remote by my fear to the procedure and the cost. However, a friend recommended me to Dr. Dario Juris. From the valuation he gave me the confidence to change what I wanted in my body. Today, I am fully recovered from the surgery and I can say that my life changed, my self-esteem is another, now I have the body I always dreamed of, I live happily because all that Dr. Juris made in my body was perfect …
I want to thank Dr. Dario Juris and his excellent team, who gave me their full support and diligence during my recovery.
Natalia Melo
October 10th, 2014
Bogotá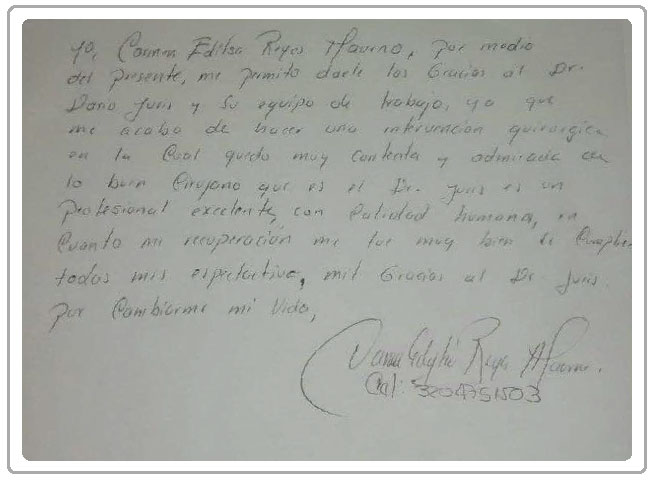 Andrea Avella
Dr. Dario Juris
Thank you for your professional work, I was totally satisfied with your expertise and caring, thank you very much.
Note: I recommend certainly the work of Dr. Juris and I encourage all those who want to improve their self-esteem and be divine and with the confidence of being in the best hands.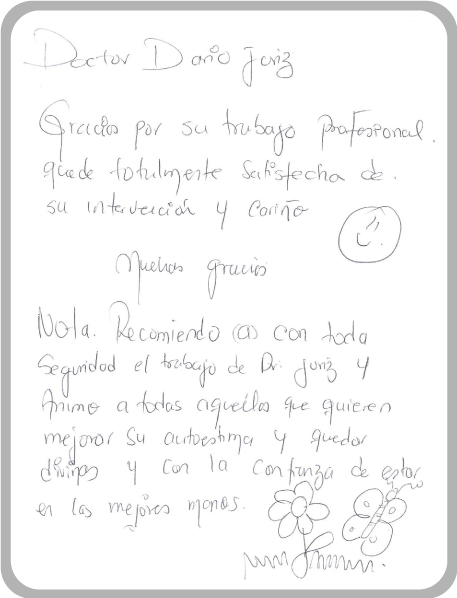 Jealeiany Lebron
Hello,
I'm from Puerto Rico and was operated by Dr. Dario Alberto Juris Lopez in May 2012. I underwent abdominoplasty, liposuction and breast augmentation. What can I say? I thank God for putting such an excellent surgeon and human being. The results were excellent, exceeded my expectations and my family's too. The treatment was excellent both in the clinic and at home hosting. I traveled alone and they picked me up at the airport, took me to the guesthouse and the clinic where I was treated wonderfully, I was pampered and helped during in my recovery. If you want to know more information about my surgery, see before and after photosk: do not hesitate to contact me
For now, I leave this picture of only 18 days after my surgery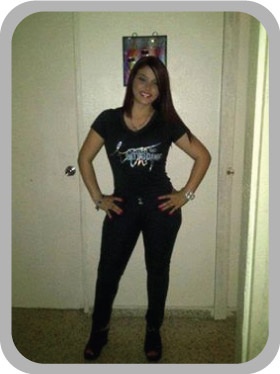 Ninoshka Álvarez
My experience with Dr. Juris has been one of the most pleasant I have had. I'm from Puerto Rico and travelled to Colombia to undergo a liposuction.
Why travelling to Colombia?
It was what many people asked me. In the office of Dr. Juris they treated me nicely beyond beyond being a simple patient, they treated me as if had known them for years. Another thing that made me decide for Dr. Juris was his accessibility, every call or E-mail always was answered very promptly. The best of all is that I was extremely pleased with the results, fulfilled my expectations. Personally I feel happy to have taken this step to leave my country to have this procedure and anyone who is thinking about undergoing an operation and reading this message has reached the correct Doctor, feel free to get in touch with him, you will not regret it. I will always be eternally grateful to Dr. Dario Juris Lopez
Sincerely
Ninoshka Álvarez